Wednesday, August 23, 2006
And the Award for Worst Customer Service Goes to….
I, like millions of people happen to have more than one mobile phone. Unlike many, I like to insure everything against unsuspected eventualities, i.e. theft, accidents and the likes, but not floods, storms or civil wars...
I bought a new phone with a contract back in December 2005, and being a sucker for punishment, I bought the everything Insurance as well...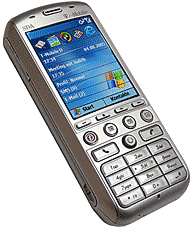 Around May, I dropped the Phone on the Floor from a table that wasn't that high (less than 12"), but I still managed to crack the screen...
I phoned the Insurers there and then, and I told them what had happened, and whether this had been a design fault with this particular handset, especially since I had other phones and they all seem to get dropped and to no ill effect.
They Kindly gave me the phone number where I need to ring to air my concerns…
I phoned the company (that shall remain nameless) to be greeted by an idiot who said, no there is nothing wrong with these phones as long as you don't drop them at all – I wasn't very impressed and we exchanged a few choice words… And I left it at that…
I left the phone on one side, and in the meantime I used my other mobile phones.
3 Months down the line, during which I did not use the damaged phone at all, but kept my repayments for the phone, the contract, the tariff and the insurance up-to-date (these being taken out directly via direct debt). During that period, I did not complain or anything.
This morning I got another bill and instructions that tells me that the amount will be taken out of my Bank account once again, I was OK with that – however, I decided to ring the insurers again to ask them for a repair or replacement for the damaged handset.
After waiting in the Queue for twenty five long minutes and listening to the complete Greensleeves back catalogue, I got greeted by a "Customer Advisor"- I told her the story - she said that they will not be able to repair or replace my handset, because they think [a] It's a fraudulent claim and, [b] Its too late for that claim, because I told them about the same problem around 28 or more days ago...

So what has this got to do with the price of cheese, you might ask, well, I just don't know…
I said, what do you mean fraudulent – I still have the original handset here in front of me… So what constitutes a fraudulent claim?
Well, why did you not ring us back sooner then?, "Because I'm the customer, its my handset, its my money that you are taking every month and because its up to me to ring you when I want...".
So what if, I accidentally smash my phone with a hammer while hanging a picture, that would have been OK, she said yes, but since I have told her about it before doing it, then "NO, it would not be OK now".
Umm, what if, while I'm talking to somebody, a freak gust of wind blows the handset from my hand, straight under a passing car's wheel, would that be OK, she said yes, but since I have told her about it before doing it, then "NO, it would not be OK now".
This time she gave me a warning that the call is being recorded and anything I would say, would be used as evidence against me…
I was going to ask her whether it would be OK if I drop the phone down the grid that leads to the sewer, what if I go to the Zoo and an Elephant walks on that, but by then I just had enough of all the bullshit and demanded to speak to the Supervisor / Manager.
The woman puts me on hold for another 5 or so minutes then answers the phone, pretending to be the Manager.
After arguing and shouting at the woman for another 20 minutes she decided to reinstate my claim (hallelujah) - and promised me that someone would ring me within 10 minutes to take the details… I thanked her and waited, and waited, and waited… Five hours later and still no call and nobody to take my details…
That thing (not calling me back) did not bother me much, even though it did annoy me, however, what really bothers me is the fact that you have to shout to be heard. People just don't want to listen to the voice of reason, instead they need a confrontation of a sort or need to be shouted at… I hate this…
And the winner is

t-mobile

and their insurance arm,

fone

safe

:(

- The super fragile handset is the infamous

SDA II

..
Use wisely, at you peril…

posted by MTH at 8:04 PM
1 comments